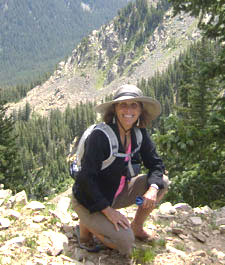 Jean E. Stevens
Executive & Creative Director,
Taos Environmental Film Festival
Jean is a filmmaker, artist, world traveler and retired educator with 27 years teaching experience in California, Italy and New Mexico. Her short film, One Life, was recently honored by NMWIF and WIFTI in 2017. She has served on the boards of the Taos Fall Arts Festival and the Friends of D.H. Lawrence where she helped launch their festivals and assisted with their educational outreach programs.
Jean grew up along the beaches of Southern California and was involved in surfing and beach volleyball. In her early twenties she traveled, with a surfboard designer, to Costa Rica, Hawaii, Asia and the Indian subcontinent. It was in Nepal, in the early 1970's, that she first encountered a community of Tibetans and their culture greatly impressed her. In 1980, she moved to Kauai and lived on a Hawaiian kuleana (native farm land) and later, with her partner, built a home on the north shore of Kauai. As a result of this experience she developed a deep respect for Native Hawaiian culture and the need to keep the Hawaiian Islands safe from exploitation and chemical pollution.
She eventually returned to Laguna Beach, California and completed her education in 1989 after receiving teaching credentials and an MFA at UCI. While working on her graduate degree, she studied with the famed director, Jerzy Grotowski. She admired his philosophy of "art as a vehicle" and it has subsequently influenced her life. After living in Italy for about a year, in 1990 she moved to Taos and helped build her passive solar home and became involved with the diverse arts community.
After twenty-seven years in Taos, she has developed a deep love for the artistic and cultural traditions of the local Hispanic and Native Americans. Taos is also a very unique place with innovative architects who have built sustainable communities. It is also full of healers, both indigenous and foreign, who have created a vibrant holistic community. As a result of these influences, Jean became a member of the Yoga Alliance Registry and the Sound Healers Association.
The 2018 Taos Environmental Film Festival is proud to present award winning feature films spotlighting various global locales. In addition, six short films made in and around Taos share stories of the acequias, the precious Rio Grande River, local sustainable farmers and the unique Taos County landscapes that have brought many artists, from far and wide, to depict the beauty of this region.
Inspired by the power of films to make positive changes for humanity, and as a result of the United States departure from the Paris Climate Agreement, the 2018 Taos Environmental Film Festival dates were changed to coincide with Earth Day.
A big thank you goes out to all the non-profits, foundations, organizations and friends who assisted Jean with mounting the 2018 Taos Environmental Film Festival.