Inspired by the power of films to make positive changes for humanity, and as a result of the United States departure from the Paris Climate Agreement, the 2018 Taos Environmental Film Festival dates were changed to coincide with Earth Day.  The theme of the 2018 edition of the festival is "Finding True Happiness in an Unsettled World".   The festival honors all the 2018 Official Selection filmmakers for their devotion to powerful filmmaking and their efforts to preserve our planet and all its inhabitants.
The following are the 2018 Taos Environmental Activism in Film Award Honorees: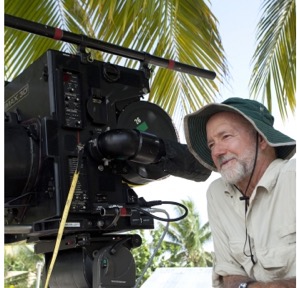 GREG MACGILLIVRAY
Two Academy Award nominated director and co-founder (with his wife Barbara) of the One World One Ocean Foundation.
Greg has been producing and directing award-winning films for more than 40 years. He started making films when he was just 13 and partnered with Jim Freeman to form MacGillivray Freeman Films in 1966. He loves the continual chess game of making a film, where each move affects every element. Today, he has more than 50 films to his credit, including over 35 IMAX productions.
Since the 1976 production of his first IMAX Theatre film, To Fly!, Greg has produced some of the most enduring films in the giant-screen genre. He has shot more 70mm film than anyone in cinema history and is the first documentary filmmaker to reach the $1 billion benchmark in worldwide ticket sales.
Greg has received two Academy Award nominations for Best Documentary Short Subject: first in 1995 for The Living Sea, and second in 2000 for Dolphins. In 2002, the Giant Screen Theater Association honored Greg as one of the five most important contributors to the success of the industry. That same year, Greg accepted the Bradford Washburn Award, the highest honor bestowed by the Museum of Science in Boston, for his contribution to science education.
One of the best parts of his job is that it has allowed him to spend his life sharing filming adventures with his family and film team. He's been everywhere, but among the coolest places he's travelled are Tibet in 1980, which he describes as "rough and raw," like the old west; Irian Jaya (New Guinea) in 1984 where he experienced the stone-age cultures; and Costa Rica, for the amazing surfing (except when Shaun was bitten by a shark!).
A passionate ocean conservationist, Greg and his wife Barbara founded the One World One Ocean Foundation, a non-profit public charity dedicated to educating and inspiring the public through giant-screen films and companion programming about the need to take action to protect the world's ocean. Greg also serves on the Board of Directors for The Great Park in Orange County and Sylvia Earle's Mission Blue, as well as the Laguna Playhouse and Laguna Art Museum.
---
DR. TOM VENDETTI
Emmy Award winning director and co-founder of the Angkor Wat International Film Festival
Tom Vendetti has always been a Big Picture kind of guy. Passionate about making and promoting documentary programs that lead to social change, Tom, with Robert Stone as technical coordinator, founded the Angkor Wat International Film Festival.
By his early twenties, convinced that finding the meaning of life was the path to happiness, he began to envision his own life as a quest. Literally. In the 1980s, after earning his graduate degree and working for several years in a mental-health program in Flagstaff, Arizona, the Maryland native set out to travel around the world.
Tom's filmmaking interests began in 1986 with the documentary "Therapy on the River." He directed and produced this program about the positive effects a five-day river trip in Southern Utah had on mentally ill clients.
For the State of Hawai'i, he made a video used to educate young adults about avoiding date rape. His 1998 production of the "House of the Sun" video continues to be sold by the Haleakalā National Park Service.
Tom's multitude of documentaries and informational videos in the psychological and environmental arena brought him experiences and insights that later extended into an exploration and fascination with other cultures and belief systems.
Despite a personal battle with prostate cancer, Tom, now cancer-free, spent over 30 years traveling through the Himalayas. His film, "When the Mountain Calls: Nepal, Tibet and Bhutan," records his personal experiences and reflections while discovering the meaning and sources of happiness throughout his journey.
The longtime Maui resident still works in mental health. But HIS first visit to the Himalayas sparked his other career as an Emmy Award-winning documentary filmmaker. My cause for years has been promoting happiness, both as a psychologist and a filmmaker." Happiness. The Declaration of Independence guarantees our right to pursue it. It's for sale in an endless parade of commodities permeating our culture. And yet the packed psych ward at Maui Memorial Medical Center, where Vendetti treats patients, is symptomatic of our society's failure to find it. In contrast, he observes, "In the Himalayas, the people don't have a lot of material wealth, yet they seem very happy."
---
ROBERT STONE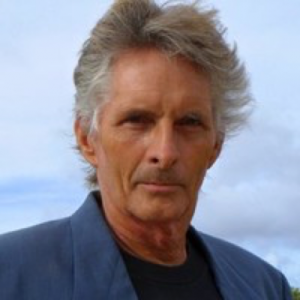 Award Winning Director, Producer, Writer, Cinematographer & Co-Founder Angkor Wat International Film Festival
Mutual respect and high regard for each other is the foundation of the long-term working partnership between independent Maui filmmakers Dr. Tom Vendetti and Robert C. Stone. Traveling together around the globe, they have co-produced seven films that have gone on to air on the Public Broadcasting System, PBS. Several are Emmy Award nominees and winners.
The impact of their work has been profound. Through telling simple stories that open the heart and emotions, they have raised our awareness of the sacred in everyday life. They are, in fact, great contributors to peace on the planet.
The synergy of Tom and Robert has changed the world in many ways. Working together since 1997, they are on the same page when it comes to the preservation of culture and the environment. Individually and jointly, with the use of stunning cinematography, they bring consciousness of our common humanity to a new height.  "We simply want to make a positive difference that will help all of us," they agreed, noting that video is a powerful medium to educate, inform, create, bring change or raise funds.
Robert has worked in all facets of the video business for over 39 years. He is an accomplished director, producer, writer, cinematographer, editor and audio technician whose work spans a diverse career in film and video production.  On Maui since 1995, Robert came to Hawai'i from Los Angeles, where he was the supervisor of audiovisual services for 13 years at a top advertising agency.
Robert is an award-winning videographer and editor, a Monitor Awards finalist and winner of multiple Telly Awards. In 1998, he was awarded the "Governor's Kilohana Award for Outstanding Volunteerism."  Robert's numerous independent projects include a two-hour television special, "The Third Annual National Smooth Jazz Awards," and FOX Television's "Magical Maui Weddings."
In 2009, Robert was co-producer and cinematographer for the epic Hawaiian documentary "Native of Owhyhee." This three-part story explores how Hawai'i turned from an ancient society into one of the most literate Christian nations in the world in the 1800s.  As director, co-producer, editor and cinematographer of "Taylor Camp" (2010), Robert documented the story of the diverse group of people living in a treetop commune on Kaua'i in the early 1970s.  "It includes nostalgic reflections of the camp's former residents more than 30 years later," Robert explained," noting that "'Taylor Camp'  includes new treatment of still photos that will provide a 3D-type experience for the viewer."
"My work on the documentary "From Trauma to Peace —Making the Impossible Possible" is very meaningful to me," he said.  The film explores the horrors suffered by Rwandans and the transformational healing that has taken place in their lives since learning the Thought Field Therapy technique.
One of Robert's documentary works, "Kiho'alu—Loosen the Key," about the life and music of Keola Beamer, was screened at the New York International Film Festival. It has so far garnered 12 awards at film festivals across the country, including an Emmy Award.  Current projects for Robert include working with Jo Danieli on the upcoming feature film "Hulihuli Moon.
PBS Documentaries
Films of Tom and Robert that aired on PBS include, from the newest to oldest, "The Quietest Place on Earth," "When the Mountain Calls," "Bhutan: Taking the Middle Path to Happiness," "Mount Kailash: Return to Tibet," "Years of Darkness: A Spiritual Journey to Recovery," "Fiji Firewalkers" and "Journey Inside Tibet."
Future Vision
Tom and Robert look forward to their upcoming projects that include concepts from wellness and spirituality to ecological sustainability—and above all the continued pursuit of happiness.  "Bringing people together is most important for us, "said Robert. "It is the mix of people, cultures and traditions, all coming together, that will break down barriers and bring harmony."
---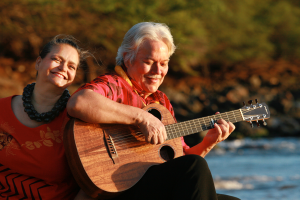 KEOLA BEAMER
multi-award winning musician, legendary slack key guitarist
Keola is a world-renowned Native Hawaiian Musician, Hawaii Academy of Recording Arts Lifetime Achievement Award Recipient, Multiple Grammy Award Nominee, Multiple Na Hoku Na Hanohano Award Winner (Hawaiian Grammys) Native Arts and Culture Foundation Fellow. He is an Award Winning Author and Artistic Director of The Mohala Hou Foundation, which presents Aloha Music Camp. In January of 2018 Keola was appointed Board Chair of Aloha Kuamoʻo ʻĀina, a 501c3 non-profit formed for the protection and preservation of the Kuamoʻo Battlefield and Burial Grounds in Kona, Hawaii. 
"Keola Beamer's [slack key] style is the best there is on the planet", says Willie Nelson. Keola Beamer has breathed new life into slack key guitar music yet stays true to its deep Hawaiian roots. He is a Hawaiian legend: singer-songwriter, composer, guitar master, with an impeccable, gorgeous style that is featured on The Descendants soundtrack and his 16 CDs. Keola was one of the first to use Hawaiian slack key techniques to create contemporary music that is also at home on jazz or classical stages. His wife Moanalani Beamer joins Keola in performances with her beautiful hula and the exquisite sounds of traditional Hawaiian instruments.
Keola Beamerʻs well of talent springs from five generations of Hawaiʻi's most illustrious and beloved musical families. Keola's mother was revered Hawaiian cultural treasure, Aunty Nona Beamer. His great-grandmother was one of Hawaiʻi's most illustrious composers, Helen Desha Beamer. The Beamers trace their roots to royal families of the 14th century and have been cultural practitioners through generations.
Keola established himself early as a leader of the wave of contemporary Hawaiian music when he wrote the classic Honolulu City Lights – which is still one of the absolute all-time best selling recordings in the history of Hawaiian Music. Keola was also the author of the very first written instruction book for the Hawaiian Slack Key Guitar, published in 1972.
---
MOANALANI BEAMER
kumu hula (hula master)
Moanalani began her hula training in 1960 at the age four with kumu hula, Johnny Hokoana. In her early years, she continued training extensively with several different kumu in Hawaiʻi. Her primary source of inspiration was the famed kumu hula, Robert Kalani.
After making her professional debut, Moanalani starred in the main revues of several prestigious hotels and resorts on the island of Maui. Her professional experience includes tenures with the shows of George Paoa, Jessie Nakoʻokā, The ʻOhana Revue, Nephi Hanneman, and Here is Hawaiʻi (produced by Keola Beamer and one of the most successful Hawaiian Shows in the history of the genre).
Winona Kapualilohia Beamer, noted elder, culture historian, and mother of her husband, Keola, was Moana's treasured mentor and teacher for over two decades.
Since 2004, Moanalani has also been a member of Maui Hālau, Nā Hanona Kūlike o Pi'ilani, under the direction of kumu Sissy Lake-Farm and kumu Kaponoʻai Molitau and in January of 2011 was offered an opportunity to participate in the preparation and training process for an event known as ʻuniki (graduation as a teacher of hula) as a member of Nā Hanona Kūlike o Pi'ilani.
On October 22nd, 2011, Moana successfully completed the year long preparation for her ʻuniki and received her designation as kumu hula. Through the years, Moana has accumulated valuable teaching experience in the art of the hula. Her sensitive nature combines her understanding of the technique with the spiritual and philosophical currents expressed in hula.
Moana remains firmly committed to sharing her cultural knowledge worldwide. She has traveled to Europe to co-teach several workshops on Movement and Hawaiian Dance with renowned German movement teacher Dorothea Jollenbeck and has also traveled annually to Japan to teach hula workshops.
Moana has expanded her role in Keola's performances. She dances, chants, sings background vocals, and plays several ancient Hawaiian percussive instruments, including ʻiliʻili (stones), kāʻekeʻeke (stamping tube drums) and ipu (gourds).
Much of Moana's year is spent dancing, chanting, talking story, and providing percussive interludes on tour with her husband Keola, as well as teaching at Aloha Music Camp. Together they present a complete sensory experience of Hawaiian music and dance.